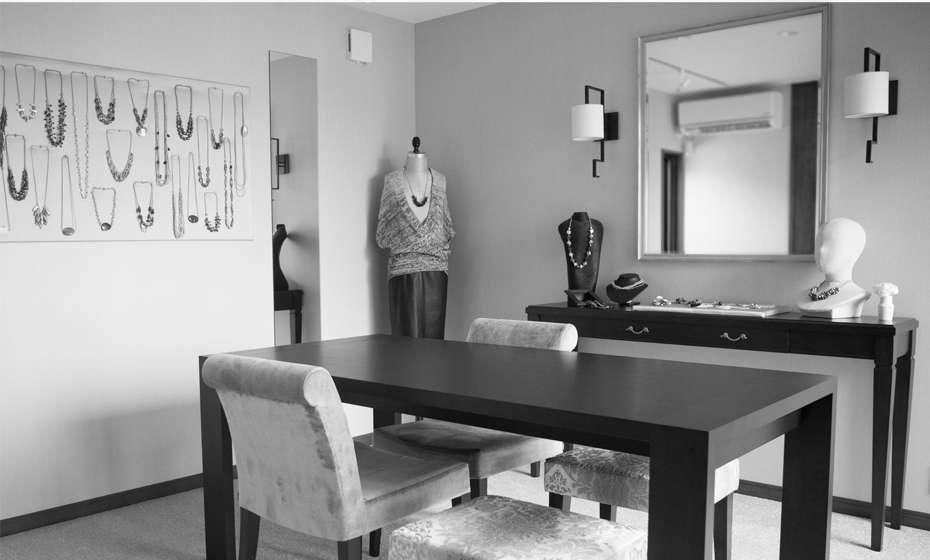 初めての方へ | For the first timers
Churieのアクセサリーは、ご注文の前にまずお客様にアトリエにお越しいただき、
フィッティング(試着)とカウンセリングをお願いしています。
フィッティング後、お客様のご要望をうかがうカウンセリングを行い、
その後、一からお客様のネックレスを制作していきます。
カウンセリングは、完全予約制となっております。
ご興味のある方は、ご予約フォームよりお申し込みください。
At Churie, first of all we ask customers to come to our studio for sample fitting and counseling.
After the fitting, and before starting the actual work, a specialized and personalized counseling will be carried out.
The counseling requires booking so if you are interested, please proceed from Booking Form.
ご注文の流れ | Introduction
1. 来店のご予約 | Booking
申し込みフォームよりご来店日のご予約をお願いします。
Fill in the booking form to make an appointment.
2. フィッティング & カウンセリング | Sample fitting and counseling
アトリエにて、サンプルネックレスをご試着いただきながら、お好みのデザインをお選びいただきます。その後、お手持ちのワードローブを伺いながら、お客様に最適なバランスやコーディネイトのネックレスをご提案し、デザインを決めていきます。
The customers are welcomed to select and try various designs at Churie's studio in a relaxing atmosphere. The counseling is personalized with professional advice and suggestions from the designer for customer's wardrobes and for the best coordination with the Churie jewelry.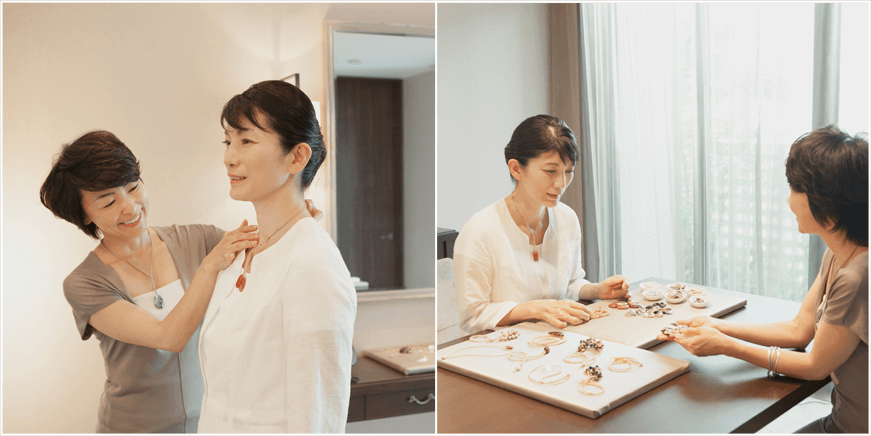 3. サンプル制作 & 画像のご送付 | The sample making and sending images
フィッティング & カウンセリングから約2週間以内に、お選びいただいたデザインのサンプルを制作し、マネキンに着用させた写真データをお客様のパソコンのメールアドレスへお送りします。
Within about 2 weeks of fitting and counseling, a sample in a design chosen by the customer will be made and images of jewelry piece on the mannequin will be sent to the customer's e-mail address.
4. サンプル画像のご確認 | Check and confirm the sample
お客様の方でサンプル写真画像をご確認いただき、ご変更の要望などにしたがって修正を行い、一緒に最終デインを固めていきます。
The customer will be asked to check and confirm the sample jewelry for design, the look and the material. If there are any specific requirements for changes, the designer is happy to discuss further and to give advice.
5. お見積もり | The estimate
最終デザインの決定後、お見積もりを致します。
After the design is finalized, the estimate will be processed.
6. 本制作 |  Making customer's jewelry starts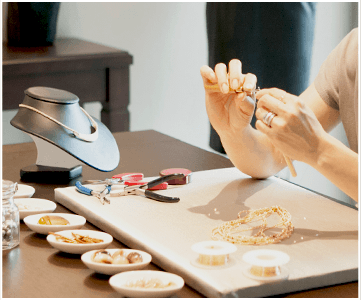 ご入金確認後、本制作作業に入ります。本制作の期間は約2週間です。
Once the payment is confirmed, the actual work of making customer's jewelry starts and the making period will be about two weeks.
7. ご納品 |  The customer jewelry is now ready.
※ ご購入品のアフターケアについて
ご購入いただいた作品のクリーニングやメンテナンスを承っています。
ご希望の方は、直接アトリエにお持込みいただくか、Churieアトリエまでご郵送ください。
※ About the post-purchase services
Churie provide cleaning and maintenance service for your newly acquired jewelry.
If you wish to receive this service, you can either come to Churie studio bringing the jewelry with you or, send it by post.