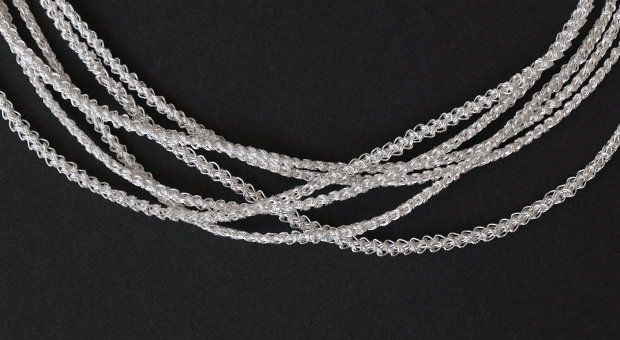 クロシェチェーンについて
「クロッシェチェーン」とは、糸のように細くやわらかいワイヤーをかぎ針で編みあげたチェーンのことです。
Churieのネックレスは、全てこのクロッシェチェーンを使用しています。
手作業でひと針ひと針編み上げていきますので、お好みの太さ・長さでご提供できます。
クロッシェチェーンはほどよい"張り"があるため、
首まわりや胸元の女性らしいラインをより美しく表現する最高の素材です。
是非、その魅力をご体験ください。
About the Crochet Chains
[Crochet Chains] are chains that are intricately hand-knitted using very fine and delicate wires.
All of Churie necklaces use the Crochet Chains.
One of the advantageous characteristics of the hand crafted chains is that they can be any thickness or length as they are totally hand made.
The right amount of "tension" in the chains makes it a wonderful material for necklace that graces the feminine shapes of lady's neck and chest area.
We are certain that you will enjoy an experience of wearing a crochet chain necklace.